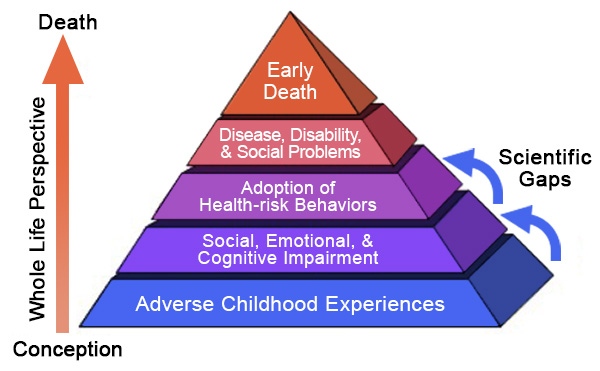 Researchers have found a link between "adverse childhood experiences" (ACEs) and health problems. They developed the "ACE Pyramid" to attempt to answer the question: "If risk factors for disease, disability, and early mortality are not randomly distributed, what influences precede the adoption or development of them?"
The factors outlined in two layers near the bottom try to fill in the "scientific gaps" between ACEs and poor overall mental, social, and/or physical health.
The study summary points to trauma and stressors leading to higher rates of social, emotional, and cognitive impairment. These problems are then associated with risky "coping" behaviors, which often are linked with higher incidents of disease, disability, and social problems. Ultimately, these factors can lead to early death.
At Hannah Grace Homes, we take the challenges of each young woman into account as we care for her individual needs for her short- and long-term well-being. Next, we'll discuss how to deal with each level with biblical wisdom.
---
Stay Connected
Subscribe to get the latest news from the Hannah Grace Homes.